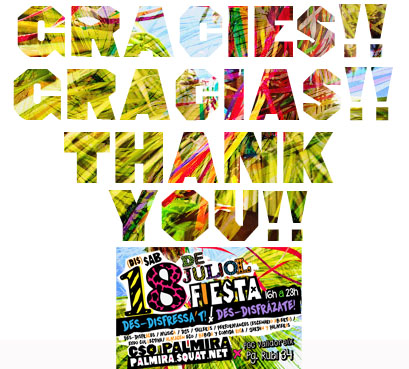 Hola estimats i estimades, com porteu la calor?
Hola queridxs, cómo llevais el calor?
Hello dear and beloved, how is the heat treating you?
Aquest missatge és d'agraïment a tots i totes les persones que ens van donar suport / acompanyar / col·laborar en la Festa Des-Disfressa't el 18/7. Com sempre ha estat un plaer poder compartir l'espai, art i celebrar, i no hauria estat possible sense la vostra participació! <3
Este mensaje es de agradecimiento a todxs las personas que nos apoyaron / acompañaron / colaboraron en la Fiesta Des-Disfrázate el 18/7. Como siempre ha sido un placer poder compartir el espacio, arte y celebrar, y no habría sido posible sin vuestra participación! <3
This message is to thank all the people that supported / accompanied /collaborated in the Des-Disfrázate Party on the 18th of july.
As many times before, it´s been a pleasure to share the space, art and to celebrate..it wouldn´t have been possible without your participation! <3
¡¡¡ GRACIAAAAEETHANKYOUUUES !!!
Col·laboradors en el muntatge i durant la festa:
Colaboradorxs en el montaje y durante la fiesta:
Collaborators in the set-up and during the party:
Igor, Jeremy, Sergio, Verónica, Alessandro, Monique, Kirsty, Julia, Agus, Martín, Ennio, Itzel, Toni, Can Masdeu, Nowhere Festival, Las Neighbours, Meri, Susana, Pau Bonfill, Nico, Annette, Elisse, Fragel, Tj, Twig, Sonia, Diana, Heather, Susie, Arantxa, Eli, Naiara, Marta, Flaco, Elisse, Mirta, Chris, Alizia, Miylen, Diana, Nicole, Ugo, Janine, Anna. Timo, Brian…
I als i les talleristes i artistazos (música, performance, expo):
Y a lxs talleristas y artistazxs (música, performance, expo):
And to the workshop leaders and the super-artists (music, performance, expo):
Txe Txe, Félix, Tobías, Cati, Can Bamboo y sus amigxs, Ams Diao, El Hadji Massaly, Mirla Lozano, Anna, Eliza, Chris, Greta Kroketa, Morganic, Dj Como el agua, The freshness, Igor y Toni, V2…
(Si us plau disculpar si se'ns oblida algú ..)
(Por favor disculparnos si se nos olvida algunx..)
(Please excuse us if we forget any name..)
Us desitgem un súper estiu i fins la propera :)
Os deseamos un súper verano y hasta la próxima :)
We wish u all have a super summer and see you next time :)